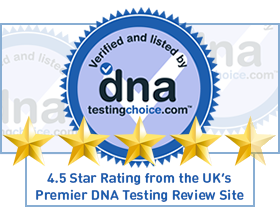 Kent, United Kingdom- 29/09/2014 – The UK based DNA testing company, homeDNAdirect, has been awarded a 5 star rating out of 5 stars by DNATestingChoice, the preeminent online source for reviews and news in the DNA testing industry. DNATestingChoice is the industry standard on the internet for evaluating and awarding companies which have distinguished themselves in field of DNA testing.
DNATestingChoice is an online publication which analyzes, reviews, and compiles commentary for DNA testing facilities around the world.  The publication is operated by a group of journalists, DNA experts, and freelance writers who evaluate DNA testing laboratories for their effectiveness, quality control, ease of use, and customer care.  In addition to their assessments, DNATestingChoice also includes customer reviews and feedback from the DNA companies in order to compile a complete portrait of how honestly and effectively a laboratory operates.
homeDNAdirect is proud to have been awarded this high level of achievement and hopes to attract more clientele to their varied online DNA testing services, including paternity testing, genetic testing, and much more.  The Sales & Marketing Manager stated in response to the 5 star rating that "we are excited to have been credited with this level of recognition from DNATestingChoice and it is our hope that potential customers will look to us for their future DNA testing needs."
As a focal point where many clients begin their search for a reputable DNA testing facility, homeDNAdirect is well poised to take advantage of their exposure in the publication.  Having been endorsed for its exceptional optimism, clarity and fairness by DNATestingChoice is welcome praise for the UK based online operator.
DNATestingChoice invites all those interested in DNA testing science or considering a test themselves to visit their publication and evaluate the various providers of genetic testing services available.